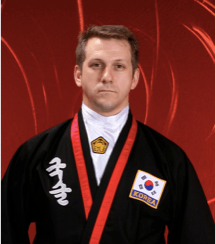 Michael Nebgen
MICHAEL NEBGEN
Kwan Jang Nim Michael Nebgen began training in 1988 in Tang Soo Do under Master Allen Sharpe in Huntsville, Texas. Kwan Jang Nim Mike continued training and teaching as an assistant under Master SharpeÆs supervision until his graduation from Sam Houston State University in 1991.
In October 1991, Kwan Jang Nim Mike relocated to Houston and was advised by Master Sharpe to find Kuk Sool Master Jay Lee to continue his training. Upon finding Master Lee, discovered he was not accepting students and was recommended to Master Barry and Choon-Ok Harmon, who had recently relocated to Clear Lake from San Mateo, CA.
Kwan Jang Nim Mike was immediately accepted for training. where he began an accelerated training course. Within a couple of years Kwan Jang Nim Mike was a Black Belt instructor under Master Harmon, teaching and training for many hours each day.